Uploaded - 2 Oct 2010 17:36
---
How to make PDF files safer by turning off Javascript
First ensure you have the latest version. If you have already got version 8 or 9, open it from your Start Button menu, then use the Check Updates option on the Help menu.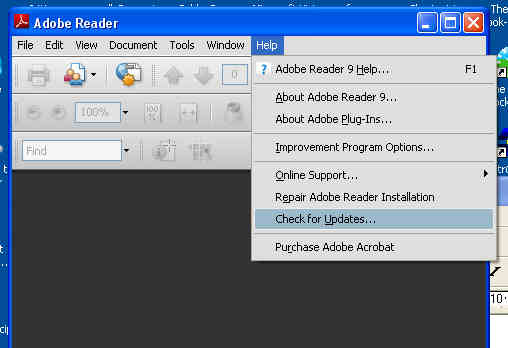 If there is an Adobe Reader update available follow through with installing it. It will probably end with a request to restart your computer. Do the restart
If you already have the latest edition you will see this box.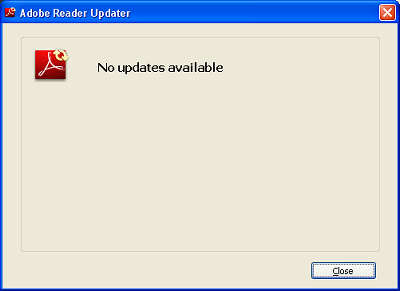 =======================================
If you do not have a recent edition of Adobe Acrobat Reader go fetch it from the Adobe website.
http://get.adobe.com/uk/reader/
Click this Link
Clear the tick from the promotional extra (Google toolbar or McAfee or whatever) and click the download button.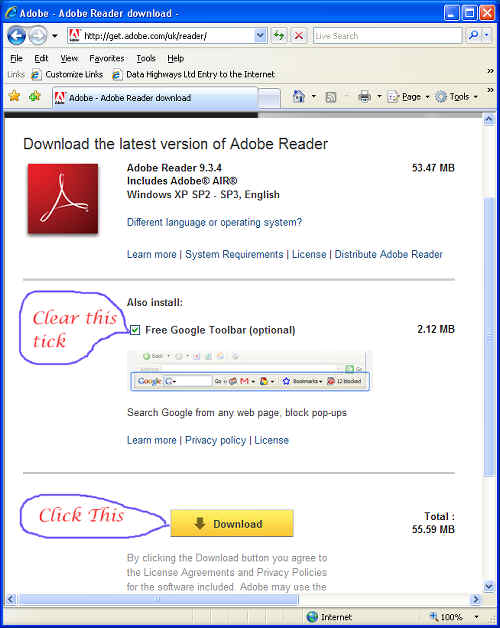 The Adobe Downloader install box then appears (another bit of un-neccesary bloat, but there is no option).
Click the Install button and follow through the rest of the Adobe Acrobate Reader version 9 installation sequence.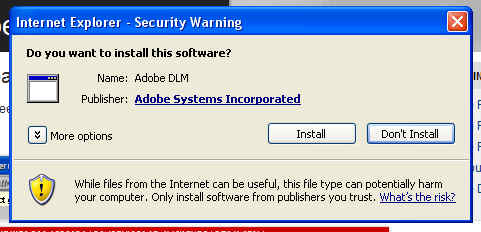 It will probably require a restart of the computer. Do it.
=========================================
Finally when you have the latest version of Adobe Acrobat Reader installed. OPen it from your Start menu (or an icon on your desktop)
Then drop down the EDIT menu and choose PREFERENCES.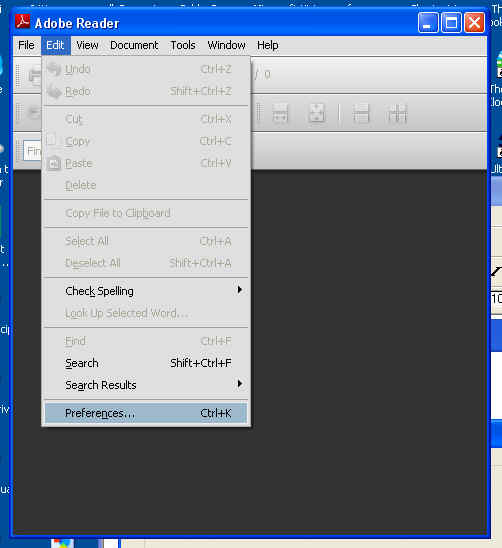 The preferences dialog box will appear as follows.
In the left column highlight Javascript using a single left click. Then Clear the tick from ENABLE JAVASCRIPT and then click the OK button.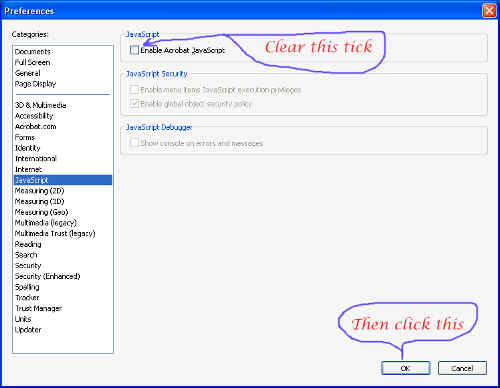 Your PDF files will then be safer, but in the unlikely event that you wish to fill in a PDF file form you will need to ENABLE JAVASCRIPT for the duration and then turn it off again afterwards.



Bill.
Revised on 2 Oct 2010
Revised on 2 Oct 2010
Revised on 2 Oct 2010
Revised on 2 Oct 2010
Revised on 2 Oct 2010
Revised on 2 Oct 2010
Revised on 2 Oct 2010